The Elder Scrolls III Morrowind GOTY – GOG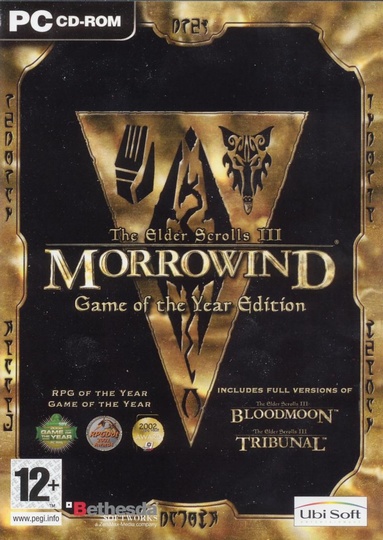 Genre: Rollenspiel | Format: Setup | Sprache: Deutsch, Englisch | Untertitel: Deutsch, Englisch
Größe: Deutsche Version 1454 MB – Englische Version 1494 MB

The Elder Scrolls III Morrowind
Der Hauptquest von The Elder Scrolls III: Morrowind spielt im Jahr 3Ä 427. Dagoth Ur, ein Halbgott, der im Roten Berg haust, erwacht zum Leben. Er benutzte das Herz von Lorkhan, ein Artefakt mit unermesslicher Stärke, um sich selbst dieser Kraft zu bedienen und die Kaiserlichen Besetzer von Morrowind zu vertreiben. Die kaiserliche Regierung ist derzeit innerlich geschwächt. Dagoth Ur überfällt das Land mit Pest (Coprus) und korrumpiert das Wesen der Schwachen. Aus diesem Grund wird ein bisher unbekannter, vom Kaiser aus dem Gefängnis der Kaiserstadt entlassen – In Hoffnung der wiedergeborene Nerevarine zu sein. Er kommt vom Festland mit dem Schiff auf Vvardenfell an und versucht nun Dagoth Ur zu besiegen.
Tribunal
Im Add-on Tribunal versucht eine Attentäter-Vereinigung, die "Dunkle Bruderschaft", die Spielfigur umzubringen. Deren Spur führt den Spieler in die neue Stadt Gramfeste (Mournhold), die Hauptstadt Morrowinds, wo er mitten in den Machtkampf zwischen König Helseth und der Göttin Almalexia verwickelt wird. Die Stadt selbst ist nicht direkt in die Hauptwelt des Spieles eingebaut. Sie ist nur per Teleporter zu erreichen und von einer unüberwindlichen Mauer umgeben. Neben der Stadt werden auch neue Feinde, Rüstungen, Waffen und Materialien eingeführt.
Bloodmoon
Im Verlauf des zweiten Add-ons Bloodmoon gelangt die Spielfigur auf die nordwestlich der Hauptwelt Vvardenfell gelegene Insel Solstheim. Dort treiben Werwölfe ihr Unwesen und im Verlauf des Spiels ist die Wahl zu treffen, diese zu bekämpfen oder sich selbst in einen solchen zu verwandeln und das Spiel in dieser Form fortsetzen. Unabhängig von der Entscheidung wird man von Hircine, dem Gott der Jagd, als würdiger Kontrahent und interessante Beute empfunden und muss ihn in einer von drei Verkörperungen besiegen. Eine zweite Handlungslinie stellt das Arbeiten für eine Handelsgilde dar und dreht sich um die Errichtung und Gestaltung einer Minenkolonie. Des Weiteren gibt es eine Reihe von neuen Nebenquests. Ähnlich wie in der "Tribunal"-Erweiterung werden auch hier wieder neue Feinde, Rüstungen, Waffen und Rohstoffe eingeführt, allerdings bietet die Solstheim-Insel aufgrund ihrer Größe wesentlich mehr Spielraum für spontane Erkundungs- und Entdeckungstouren.
Bonusinhalte:
Manual + GOTY guide



NFO



Filecrypt & Keeplinks


Filecrypt & Keeplinks