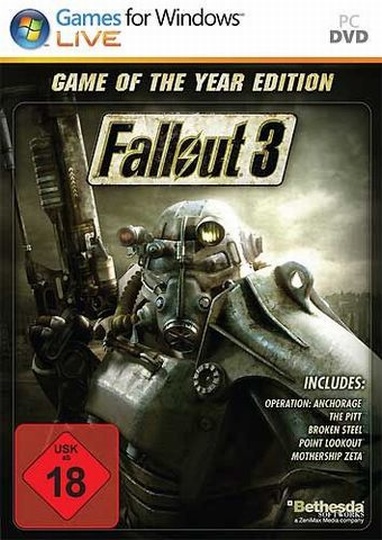 Genre: Action | Größe: 7858 MB | Parts: 8 Dateien | Format: ISO | Sprache: Deutsch
Untertitel: Deutsch

200 Jahre lang hat Vault 101 den überlebenden Bürgern von Washington D.C. und Umgebung, heute nur noch Wasteland des Kapitols genannt, als Zufluchtsstätte gedient. Obwohl der globale Atomkrieg im Jahre 2077 die Vereinigten Staaten in Schutt und Asche gelegt hatte, erfreuten sich die Bewohner von Vault 101 eines Lebens frei vom steten Stress der Welt da draußen. Gigantische Insekten, Gangster, Sklaventreiber und ja, sogar Supermutanten … sie alle sind der überragenden Vault-Tech-Technik nicht gewachsen. Doch als unser Held eines schicksalshaften Morgens erwacht, muss er feststellen, dass sein Vater sich dem Aufseher widersetzt und den Komfort und die Sicherheit von Vault 101 aus unbekanntem Grund verlassen hat. Und so lässt auch er die einzige Heimat, die er je gekannt hat, hinter sich und tritt aus dem Vault hinaus in die harsche Wastelandsonne, um sich auf die Suche nach seinem Vater und der Wahrheit zu machen.
Features:
* Erleben Sie S.P.E.C.I.A.L.! – Vault-Tec-Techniker bieten Ihnen das SPECIAL-Charaktersystem!
* Jetzt sind Sie nicht mehr auf eine Sicht beschränkt, sondern können die Welt entweder aus der First-Person- oder der Third-Person-Perspektive erleben.
* Fühlen Sie sich heute wie ein meuchlerischer Übeltäter oder ein barmherziger Samariter?
* Gleichen Sie mit dem Vault-Tec Assisted Targeting System für Ihr Pip-Boy-Modell 3000 die Chancen aus!
* Game of the Year Edition: Inklusive aller 5 Erweiterungen!



NFO



Filecrypt & Keeplinks


Filecrypt & Keeplinks