Act Of War Gold Edition – GOG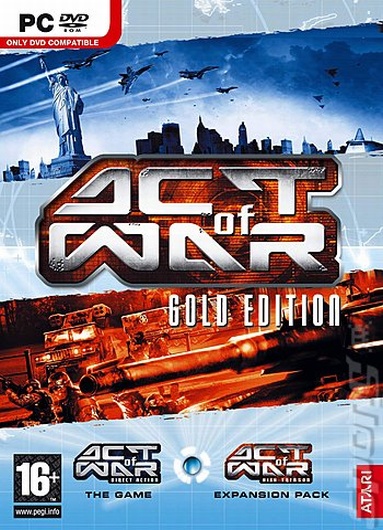 Genre: Strategie | Größe: 8223 MB | Parts: 9 Dateien | Format: Setup | Sprache: DE/EN/FR/IT/SP
Untertitel:  DE/EN/FR/IT/SP
Act of War: High Treason: DE/EN/FR/IT

Act of War: Gold Edition enthält Act of War: Direct Action und die Erweiterung Act of War: High Treason.
Act of War: Direct Action
Act of War: Direct Action, ein äußerst realistisches, in der nahen Zukunft angesiedeltes RTS, spielt vor dem Hintergrund eines Konflikts, der unsere Welt für immer verändern könnte. In diesem in Zusammenarbeit mit Dale Brown, Captain (ret.) der US Air Force und Autor von 14 New York Times-Bestsellern, produzierten Techno-Thriller hast du das Kommando über Task Force Talon, eine zur Verteidigung von Städten in aller Welt zusammengestellte Sondereinheit. Kein anderes Spiel verschafft dir eine derartige Kontrolle über den Krieg von morgen und lässt dich das Nonplusultra moderner Waffen, Fahrzeuge und Geheimdienstinformationen nutzen!
Act of War: High Treason
Act of War: High Treason ist die spannende Fortsetzung von Act of War: Direct Action. Das rasante, actionreiche und ausgewogene Gameplay, ein umfangreicher Technologiebaum und eine erstaunliche Grafik machen dieses ultrarealistische und moderne Militär-RTS zu einem Muss für jeden Echtzeitstrategie-Fan!
Mit Seegefechten, erweiterten Technologiebäumen und einer umfangreichen neuen Einzelspielerkampagne bietet dir High Treason Hunderte Stunden intensiver RTS-Action!
Nutze in diesem Ausblick auf den Krieg von morgen die besten und fortschrittlichsten Militärtechnologien und Einheiten!
Bonusinhalte:
– Act of War: Direct Action Manual
– Act of War: High Treason Act of War: High Treason
– Avatars



NFO



Filecrypt & Keeplinks


Filecrypt & Keeplinks