VA – Fetenhits Silvester 2015 (2015)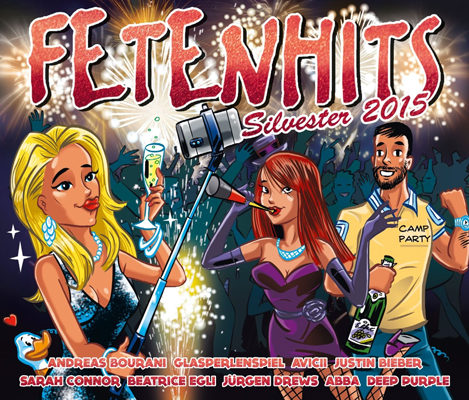 ¡Todo lo mejor para el nuevo año, salud y felicidad y un cordial saludo a todos en el foro!
Alles Gute für das neue Jahr, Gesundheit und Glück und herzliche Grüße für alle im Forum!
All the best for the new year, health and happiness and warm greetings to everyone in the forum!
Format: MP3 – Bitrate: 320 kps – Time: 3:46 – Size: 174/169/187 MB
CD individually/individualmente
Year: 2015
Genre: Pop
CD 1
01. Glasperlenspiel – Geiles Leben (Madizin Single Mix)
02. Felix Jaehn – Ain't Nobody (Loves Me Better)
03. Louane – Avenir (Radio Edit)
04. Sido – Astronaut
05. Avicii – Waiting For Love
06. Omi – Cheerleader (Felix Jaehn Remix Radio Edit)
07. Martin Solveig – Intoxicated (Radio Edit)
08. Justin Bieber – What Do You Mean
09. Kygo – Stole The Show
10. MoTrip – So Wie Du Bist (Reich & Bleich X Luis Henri Remix)
11. Sarah Connor – Wie Schon Du Bist (Leyk & Lockvogel Mix)
12. Helene Fischer – Mit keinem Andern
13. Jurgen Drews – Heut schlafen wir in meinem Cabrio
14. Beatrice Egli – Ohne Worte
15. Andreas Gabalier – Verliebt verliebt
16. Philipp Dittberner & Marv – Wolke 4
17. Lost Frequencies – Are You with Me (Radio Edit)
18. Years & Years – Shine
19. Freischwimmer – California Dreamin (Calvo Remix)
20. Gestort aber Geil – Unter meiner Haut (Radio Mix)
21. Dj Antoine – Holiday (Dj Antoine Vs Mad Mark 2k15 Radio Edit)
CD 2
01. Andreas Bourani – Auf uns
02. Mark Forster – Flash mich
03. Cro – Bye Bye (MTV Unplugged)
04. Adel Tawil – Unsere Lieder
05. Mark Ronson – Uptown Funk (ft. Bruno Mars)
06. Walk The Moon – Shut Up and Dance
07. Lena – Traffic Lights
08. Alvaro Soler – El Mismo Sol
09. Avicii – For A Better Day
10. Klingande – Riva (Restart The Game) (Single Edit)
11. Sam Feldt – Show Me Love
12. George Philip – Wish You Were Mine (Radio Edit)
13. John Newman – Come And Get It
14. Leona Lewis – Fire Under My Feet
15. Wanda – Bussi Baby
16. James Bay – Hold Back The River
17. The Bosshoss – Dos Bros
18. Francine Jordi – Paradies (Echolot Remix)
19. Voxxclub – Seele Der Ferne
20. Markus Becker – Die schonste Frau der Welt
21. Hohner – Kumm Loss Mer Danze
CD 3
01. Kool & The Gang – Celebration (Single Version)
02. The Knack – My Sharona
03. Deep Purple – Smoke On The Water
04. Cameo – Word Up! (Single Version)
05. Culture Club – Karma Chameleon
06. Baltimora – Tarzan Boy (Original Version)
07. Human League – Don't You Want Me
08. The Buggles – Video Killed The Radio Star (Single Version)
09. Tim Toupet – So Ein Schoner Tag (Fliegerlied) (Party-Mix)
10. Markus Becker – Das rote Pferd
11. M.C. Hammer – U Can't Touch This
12. Vanilla Ice – Ice Ice Baby (Radio Edit)
13. Santa Esmeralda – Don't Let Me Be Misunderstood
14. Abba – Dancing Queen
15. Deep Blue Something – Breakfast At Tiffany's
16. Matthias Reim – Verdammt, ich lieb dich (Version 2014)
17. Rex Gildo – Fiesta Mexicana
18. Heino – Blau bluht der Enzian
19. Vicky Leandros – Ich liebe das Leben
20. Max Raabe – Mit Dir mochte ich immer Silvester feiern (Remix)
CD individually/individualmente
RAPIDGATOR-Direkt
********************************