Broery – 15 TERBAIK – 15 Hits/Exitos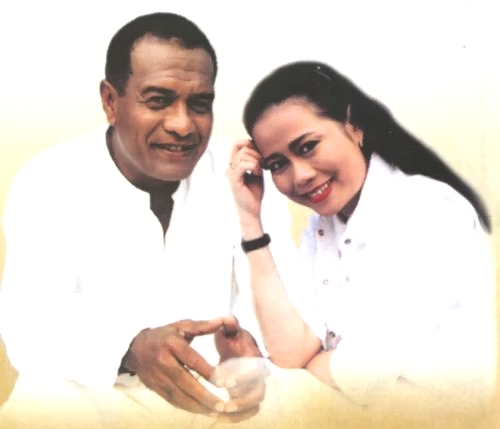 En memoria/In memory/Zum Andenken
Broery (Junio 25, 1948 a Abril 7, 2000) fue el nombre artístico
del famoso cantante indonesio Broery Pesulima, también
conocido como Broery Marantika.
Broery nació en Ambon, Maluku con el nombre
"Simon Dominggus Pesulima". Sus padres eran Gijsberth Pesulima y Marantika Wilmintje.
Murió el 7 de Abril de 2000 en Yakarta.
Broery (June 25, 1948 – April 7, 2000) was the stage name of the
famous Indonesian singer Broery Pesulima, also known as
Broery Marantika.
Broery was born in Ambon, Maluku as "Simon Dominggus Pesulim
a". His parents were Gijsberth Pesulima and Wilmintje Marantika.
He died on April 7, 2000 in Jakarta.
Broery (25. Juni 1948 – 7. April 2000) war der Künstlername
des berühmten indonesischen Sängers Broery Pesulima, auch als
Broery Marantika bekannt.Broery wurde in Ambon, Maluku als
"Simon Dominggus Pesulima" geboren.
Seine Eltern waren Gijsberth Pesulima und Wilmintje Marantika.
Er starb am 7. April 2000 in Jakarta.
Format: MP 3 – Size: 165 MB – 320 kpsTracklist:
01 – Jangan Ada Dusta Diantara Kita (duet dengan Dewi Yull)
02 – Rasa Cinta
03 – Siti Nurbaya (ciptaan Rinto Harahap)
04 – Bahasa Cinta (duet dengan Vina Pandu Winata)
05 – Kalau Piring Sudah Pecah
06 – Di Balik Mata Ada Dusta
07 – Kasihku Bukan Cintamu
08 – Jangan Ganggu Aku
09 – Seandainya Aku Punya Sayap
10 – Kereta Senja
11 – Aku Begini Engkau Begitu
12 – Aku Jatuh Cinta
13 – Benci Tapi Rindu
14 – Oh, Tuhan
15 – Mungkinkah Terjadi
RAPIDGATOR DIRECTO
DOWNLOAD
********************************